Gabion Baskets are rectangular mesh baskets that we provide in a range of sizes from 0.5m² upto 2m².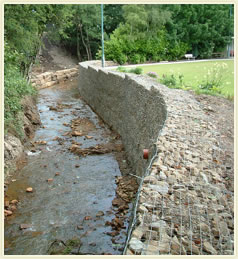 Flexible
The wire mesh varies in diameter from 2mm to 8mm and is either welded or woven, galvanised or plastic coated, depending on application.
Baskets come in flat pack form and are assembled on site. They can be used in a range of applications from small domestic projects to large industrial schemes.
The infill to the baskets is usually locally sourced stone ranging from 200mm - 100mm. Hand facing ensures that the wall has a good cosmetic appearance.